Length: 20 mile loop
Elevation Change: 2600' cumulative elevation gain
Season: Summer thru Fall
Difficulty: Very Difficult, due to distance
Permit: NWF Pass Required
GPS:
Latitude: 44.4255
Longitude: -121.8493



Features: The trailhead for this hike is located just off US20 at Santiam Pass. It is well marked.

This is not your normal every day hike to Three Fingered Jack. In spite of this hikes rather significant length, one can do this is a day, as I did, but by taking your time, getting and early start, and not worrying about driving home in the dark.

This is an excellent cruise hike. What I mean is that it seldom gets very steep, and the trail is in excellent condition. I did the hike counter clockwise. I recommend this for photography.

Unfortunately, there was a terrible fire through this area about 3 years ago, leaving 2/3 of the hike within the burn area. On the plus side, you get better views than if you were in dense forest, and the wildflowers are doing great!

When you finally get to the northeastern base of Three Fingered Jack, there is a great users trail that takes you along the moraine with a view of the little pond still within it. From the ridge you get great views north toward Mt. Jefferson.

One can easily scramble cross country to meet up with the Pacific Crest Trail which is plainly visible from the base of Three Fingered Jack. The trees are sparse, but the terrain is a bit steep. But only for a short distance.

Once upon the Pacific Crest Trail it is just a matter of wearing your boots out on the 9.5 mi return trip to your vehicle. Although, the scenery is so great you probably won't mind.

This hike is not for faint hearted. It is long. Take plenty of water, and rest often.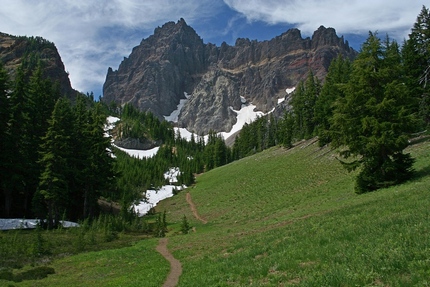 Trail approaching 3 Fingered Jack