Length: 8.5 miles round trip
Elevation Change: 1497' elevation gain
Season: Summer thru Fall
Difficulty: Challenging
Permit: NW Forest Pass Required


Features: Here is a great hike with great rewards. This is the same trailhead as the loop hike to Obsidian Basin, but much shorter.

If you stay strictly on this trail to the 4 Cones, you will not need the Special Use Permit that you would need if you were to cross over into the Obsidian Basin area.

The hike is a gentle climb almost the entire distance with a few small exceptions. The trail is almost entirely within forested areas until you reach the intense lava flows. Here things really change.

Actually, it is the lava flow areas that make this hike the excellent hike that it is. Just a little over two miles into the hike the trail begins to wind around, over, and between large lava flows of exceptional interest.

As you approach the 4 Cones area, things really get interesting. Don't be surprised if you find snow along the trail even in late summer. The cutoff trail that takes you to the top of the 4 Cones is located in a flat volcanic area with excellent views to the southeast of the North and Middle Sister.

It is a short but steep climb to the top of the 4 Cones, but OH SO WORTH IT. Here you not only get superb views of the Sisters to the southeast, but looking north you see Mt. Washington, 3 Fingered Jack, Mt. Jefferson, and even a little of Mt. Hood, peeking around the eastern flank of Jefferson.

This is a fun and rewarding hike. Enjoy!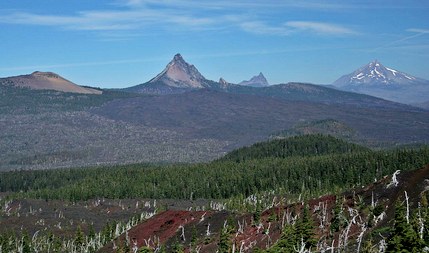 f="cougars.html">Cougar Encounters

River Crossing Safety