Length: 4.5 miles RT
Elevation Change: 450' gain
Season: Year Round except during ice/snow storms
Difficulty: Easy
Permit: NW Forest Pass Required
Features:

NEW!
Click for PDF Topo Map of this Hike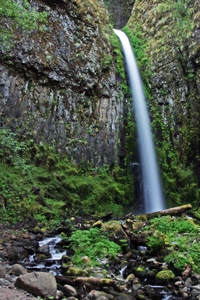 This hike is relatively easy and is very popular.

The starting point is the rest area right next to the Bridge of the Gods, where you catch the Pacific Crest Trail southbound. It is kinda different and complicated as the trail makes its way through the inhabited areas of Cascade Locks, but it is well signed and you should have no trouble finding your way out of town and on your way to Dry Creek Falls.

In about two miles the trail comes to Dry Creek and it will be obvious that a road used to come through this area to the falls. The road was an access to a water deversion system that you can still see when you get there.

The point is, don't cross the creek if you want to see the falls. Just bear right uphill on the old roadbed and soon you will be at the falls.
How to get there:

Bridge of the Gods Trailhead or Tollbooth Park: From I-84 take Exit #44/Cascade Locks. Follow the signs to Bridge of the Gods/Stevenson. Before crossing the bridge you'll see a wooded park on your right. This is the trailhead. Park here. Please note this trailhead is closed during the winter months. If so, park near the Charburger restaurant or under the bridge. There's plenty of parking there.

The trail begins across the road (south of the trailhead), passing under I-84.