Length: 16 miles RT to summit including 1 mile RT to overlook
Elevation Change: 4400' gain
Season: Only recommend spring - too snowy or overgrown otherwise
Difficulty: Very Difficult
Permit: NW Forest Pass Required
Features:



This hike begins in the middle of the Dog Mtn trail head along Washington highway 14. It is a long steady hike in and out of forested areas up the west flank of Dog Mountain. This is a very difficult hike due to the elevation gains and losses and regains, as well as the length.

At 2.8 miles you come to the junction with Dog Mtn, so continue straight ahead and down hill. You loose about 400' elevation. In about half mile you come to a power line service road which you will follow for about a mile.

The trail then takes off into the deep woods and begins to do some serious climbing. In another mile you will break out onto a ridge that parallels the high-power lines. From this ridge you have many spectacular views as you continue to climb.

There are some short switchbacks that take you in and out of the forested areas as you climb the steeper part of this hike. Finally you reach the heavily forested top of Augspurger. If you continue down hill on a faint trail on the northwest side of the mountain, you will come out onto an exposes slope with fantastic views and more than worth the hike.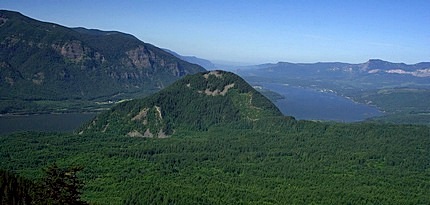 Looking west at Wind Mountain from the Augspurger Mountain trail