Length: 4.5 miles round trip
Elevation Change: 982'
Season: Late winter thru late fall
Difficulty: Challenging
Permit: Pass Not Required
Features:

NEW!
Click for PDF Topo Map of this Hike


Here is a trail that is provided by a private individual and is therefore on private land. The kindness of this family allows those of us who love the Gorge to enjoy even more of its precious wonders.

The trailhead is about a mile east of Lyle, Washington on SR14. After passing through a couple of small tunnels, you will see the parking area on your left on the north side of the highway. The trail begins in a dense oak forest that is overflowing in poison oak.... so beware.

Shortly, you will come to an old roadbed, and the trail bears to the left. Soon you will come to a sign, designating this trail as the Cherry Orchard Trail. The trail is almost always steep, but most of the time it is out in the open and this provides stunning vistas of the Columbia River Gorge, in all directions.

As the trail climbs out of the valley toward the ridge above you, there will be various opportunities to stray off the main trail and explore nearby optional views, flowers, and or wildlife. Be advised, this trail not only is surrounded by poison oak, but there are more than an abundant number of ticks, and in the warm season, rattlesnakes. USE EXTREME CAUTION.

As the trail reaches the ridgeline, I consider this the end of the hike. The views are wonderful, and in season the floral displays are rewarding. Simply retrace your steps back to the trailhead to complete yet another wonderful adventure.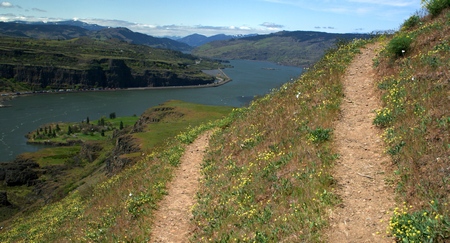 Cherry Orchard trail