Length: 2.6 mi
Elevation Change: 1200'
Season: Almost Year Round
Difficulty: Challenging due to steepness
Permit: Pass Not Required
Features:

NEW!
Click for PDF Topo Map of this Hike

Here is one little gem of a hike right along the busy interstate freeway. Just take exit 58 (eastbound only) on I84 just few miles west of Hood River, Oregon. This exit is for access to the Lausmann State Park.

There is a large parking area here, and you will see a paved trail headed into the woods at the south end. Follow this trail, which immediately turns into dirt path which leads a steep climb to the summit of Mitchell Point.

The hike begins in a densely forested area. About a third of a mile into the climb, you will notice a user trail headed off to the left of a steep switchback. You might want to take this short hike upon your descent from Mitchell Point. The user trail leads you to the summit of Mitchell Spur, another steep point with great vistas of the Columbia River Gorge.

After passing this spur trail, the route up Mitchell Point continues to climb very steeply. However, you will soon break out into talus slopes which provide you will outstanding views of the Columbia River and surrounding mountains.

About 3/4 mile into the climb, the trail breaks out into a power line area which is somewhat cleared and offers more view opportunities. The switchback under the power line, leads you north onto the summit of Mitchell Point.

Use caution on this part of the hike, as the summit has steep and dangerous cliffs on both sides of you. This hike is not family or pet friendly. USE CAUTION.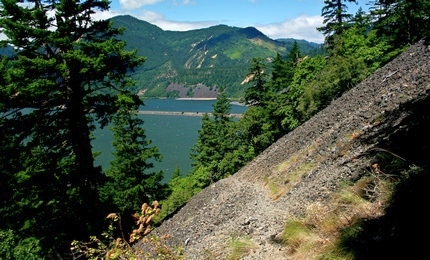 Mitchell Point trail view
How to get there:

Mitchell Point Trailhead: Traveling east on I-84, take Exit #58/Mitchell Point Overlook (eastbound exit only).

Traveling west on I-84, continue past Exit #58/Mitchell Point Overlook to Exit #56/Viento. Turn around here and head east.