Length: 3 mile RT
Elevation Change: 340' cumulative elevation gain
Season: Year Round
Difficulty: Moderate
Permit: NWF Pass required



Features: Here is a real gem of a hike, hidden away in the Siuslaw National Forest. This hike includes the longest suspension foot bridge in Oregon, which really makes this hike spectacular. But it is a also a long way from any of the major population centers of Oregon, so it is only worth the effort if you plan to be in the Lincoln City area anyway.

The parking area is excellent and the toilet facilities are new and clean. You will need a Forest Pass to park here.

Be aware that you begin this hike at the top of a hill and walk downhill almost the entire distance. This means that to get back to your car, you will walk uphill almost the entire distance.

This hike is available all year round, but in the spring you are treated to impressive floral displays.

There are a lot of more dramatic waterfalls in the Pacific Northwest; this one takes a plunge from a rocky cliff. It is the 240 foot suspension bridge that crosses the canyon right next to the 80 foot falls that makes this hike unique.

This hike is family and pet friendly. Supervise your children and your pets, and a good time will be had by all.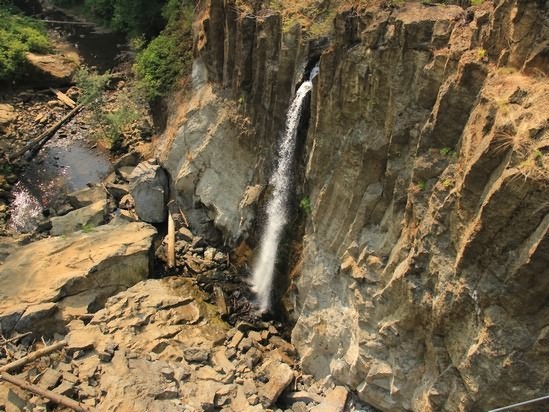 Drift Creek Falls from suspension bridge
How to get there:

From Lincoln City, take Hwy 101 to milepost 119, at the south edge of the town. Then turn east onto Drift Creek Road for 1.5 miles. Turn right at a T shaped junction, and 0.3 miles later, fork uphill to the left to a one lane Drift Creek Camp road (Road 17). In another 0.8 mile turn uphill to the left again. Then continue 9.1 twisty, paved miles to the large trailhead parking area on the right.

From Hwy 18, turn left onto Bear Creek Road near the community of Rose Lodge. Follow Bear Creek Road, which becomes Forest Road 17, for 8 miles to the trailhead.