Length: 6.5 Mile All Loops
Elevation Change: 1000' Elevation gain
Season: Mid-Summer thru Fall
Difficulty: Moderate
Permit: Yakima Nation Pass Required - Available at Trail head


Features: The hiking options in and around Bird Creek Meadows offer some of the best summer floral displays in the southern Cascade Range. The trails illustrated on this map include the best of the best.

One can do any variation of the trail loops presented, and not be disappointed. Plan plenty of time and take lots of pictures to enjoy on the long winter nights as you reflect on your adventure to Bird Creek Meadows.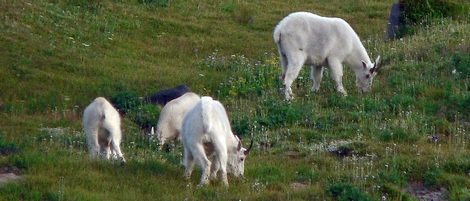 Mountain Goats grazing in Bird Creek Meadows