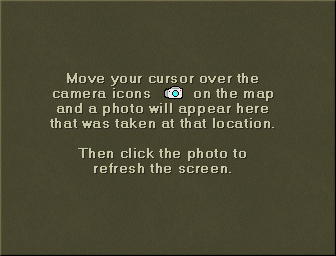 THE FOLLOWING MAP IS NOT TO BE USED FOR NAVIGATIONAL PURPOSES.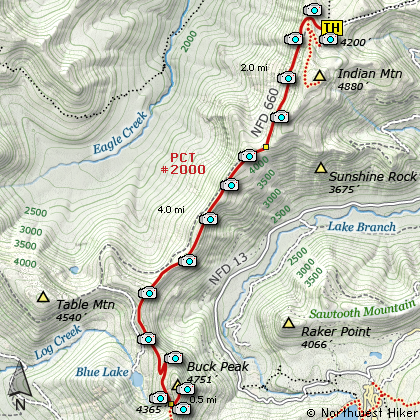 Length: 12.5 mi RT
Elevation Change: 1100' gain
Season: Summer thru Fall
Difficulty: Challenging
Permit: NW Forest Pass Not Required

Features: This is one of three ways to reach Buck Peak, which by the way is the high point of Multnomah County (4751'). I do not include in this guide the option of starting at Lolo Pass and hiking the PCT to Buck Peak. I do include Hike 10 from Lost Lake as an option, and of course the hike on this page from Indian Springs Campground just south of Wahtum Lake. This hike begins on the PCT at the Indian Springs Campground and follows the PCT to the base of Buck Peak where you take a short cut-off trail to the summit.

Buck Peak is more popular amongst the county high point hikers than most others, but it is a great hike and during wildflower season it is even more spectacular. Because most of the hike uses the Pacific Crest Trail, hiking to Buck Peak from Indian Springs you are pretty much guaranteed good trail conditions.

The first couple miles of this hike is pretty much out in the open, and the PCT parallels an old access road that is now mostly overgrown. About two miles into the hike, the trail crosses the remains of that old road and you don't see it again. The place where the trail crosses the old road is also the place where the trail moves from the west side of the divide that it follows to the east side. It is also the place where the trail pretty much enters a forest for firs, hemlocks, and cedar, which really limits the views until you actually get to Buck Peak.

About five and a half miles into this hike the trail crosses a spring. Someone has inserted a pipe into the ground, out of which clean cold water flows. This is the only water source I noticed on the entire hike. Just a bit further, is the junction to the cutoff trail that takes you to the summit.

This trail gets very little use, so it can be overgrown at times. But they try to keep it clear. It is a short hike from here to the summit, and when the weather cooperates, the views are spectacular.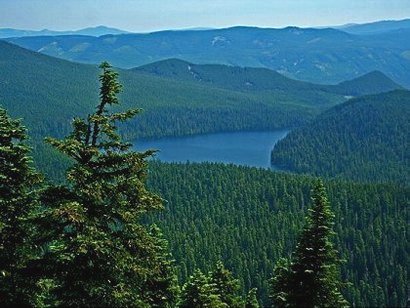 Looking down on Lost Lake from Buck Peak
A Virtual Hike of the Mount Hood National Forest