Length: 9 mi round trip
Elevation Change: 2800' gain
Season: Summer thru Fall
Difficulty: Difficult
Permit: NW Forest Pass Required


Features: This challenging hike begins with a very steep climb through dense forest for about a mile. Then the trail levels off for about a mile before it begins its upward climb to an open ridge that offer spectacular views of Mt Hood, Mt Adams, and Mt Rainier. At 3.5 miles the trail intersects trail #775 and follows this trail for about a quarter mile. Then trail #796 takes you to Cast Lake. As you near the lake, the trail divides. Going to the right takes you to the far north end of the lake and decent camping areas. The trail to the left brings you to the south end of the lake with no appropriate places to camp.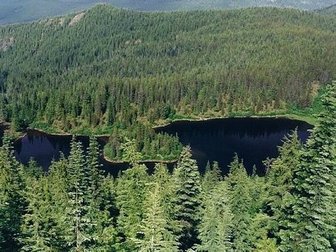 Looking down on Cast Lake from the Zig Zag Mountain Trail