Length: 11.7 mile
Elevation Change: 2200' cumulative elevation gain
Season: Summer thru Fall
Difficulty: Difficult
Permit: NWF Pass is required
GPS:
Latitude: 44.5769
Longitude: -121.8939



Features: The trail head for this hike is located just off OR22 at Marion Forks. It is well marked. Turn east off OR22 and drive about 5 miles to the end of the FR #2255 to a well marked trail head for Forest TR #3436.

The trail head elevation is about 3360' and Marion Lake is about 4130', so the three mile hike into the lake is gentle. The trail starts out in a logged area with significant under growth and young trees. But after about a half mile, you will enter the Mt. Jefferson Wilderness Area, and the growth becomes much more mature with little evidence of human activity, other than the trail on which you are hiking.

The trail begins to get steeper as you climb the next mile to the edge of Lake Ann. Then it continues to climb a bit for the next half mile or so, at which point you will come to a major junction. At this point you can go either way. The map above shows you the two options.

Whether you go clock-wise or counter-close-wise, you will end up at the bridge that crosses Marion Creek. The bridge is very new, as the previous bridge was destroyed by the forces of nature.

If you decide to climb Marion Mountain, you will want to cross this bridge and begin your ascent by following TR #3422. It is now that you will begin to walk through several severely burned areas of the wilderness. After about another mile of a gentle climb, you will come to the junction of TR #3443. Bear right and follow this trail to the west as you begin a bit steeper ascent over the north flank of Marion Mountain.

However, soon the trail levels off a bit and you are afforded opportunities to see Mt. Jefferson to the north and Three Fingered Jack behind you and to the southeast. This section of the trail runs through the severely burned area of the wilderness, and you will be viewing the surrounding peaks through standing dead timber. It is during this part of the hike where you will most likely encounter a lot of fallen debris.

After another mile, you will come to the junction of TR #3435, which you will want to follow to the summit of Marion Mountain. Again, the trail gets a bit steep, but it is less than a mile to the top.

The only negative thing about climbing Marion Mountain is the view of the thousands of acres of burned timber below you. So sad. Sadder yet, because it was human caused. Nevertheless, the reward of the incredible vistas outweighs the disturbing devastation. Enjoy!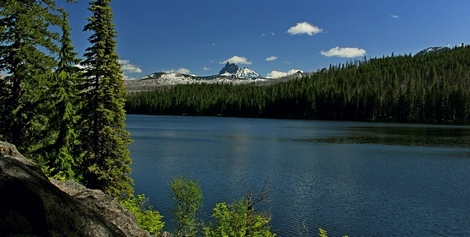 Marion Lake with 3 Fingered Jack